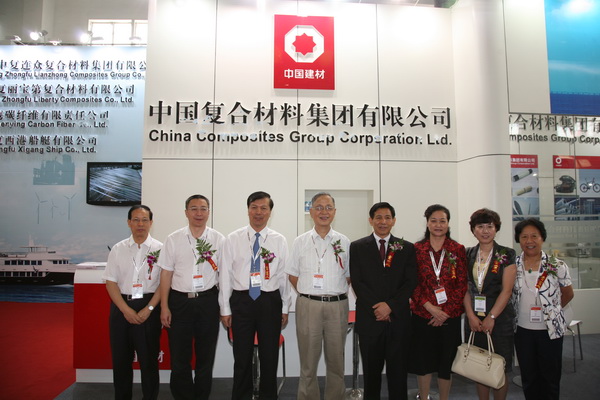 September 11, 2013, the 19th China Composites Expo (CCE 2013) opened at China International Exhibition Center (Shunyi New Venue). It is the only professional composites exhibition approved by Ministry of Science and Technology of PRC. Jointly hosted by China Composites Group Co., Ltd., China Composites Industry Association and China FRP Society, it had become the biggest and most influential composites event in China and Asia-Pacific region, ranking among world top 3
Being praised as the bellwether of composites industry, it reveals what have been done in the past years and what will be achieved in the years to come.
The annual event attracted 450 participating companies and 15,000 professional visitors from 60 countries and regions this year. Three venues contribute to an overall exhibition area of 39,300 m2. Every niche sector in the value chain could be found here. They include fibers (glass, carbon, aramid, basalt, natural, etc.) and their reinforcement, resins (UP, epoxy, phenolic, etc.), additives, processes (pultrusion, filament winding, molding compression, spay, autoclave, vacuum infusion, RTM, etc.), software, equipment, final parts, etc. Various activities were performed including products display, process demonstration, seminars, speeches, meetings, talks, etc.
Exhibition is the barometer of Industry. China Composites Expo embraced its 19th anniversary at a time when the global economy was under depression, China's manufacturing index was just to recover, and export remained at a slow growth rate. In the past 19 years, China had become a very important composite market in the world. Its irreplaceable status was further proven and strengthened in the time of global economic downturn.
The slowdown of China's economy didn't hinder companies from securing their presence at China Composites Expo. The exhibition itself was telling that China had become the very source of new technology and products. Foreign investment kept flowing in and visitors from ASEAN, India, Middle East, South America, Australia, where China's products and equipment kept attractive, were increasing year by year. Buyers from Europe and USA were dropping but enterprises there kept flooding in in want of a share in the huge China market. Every year in China Composites Expo, new faces were expected who were seeking agent, planning to set in China offices, subsidiaries, joint ventures, facilities, R&D centres, etc. China composite market, as they felt optimistic about, would never fail them.